I do web development and design in the video game industry at Harmonix. Because the team I work on is tiny, I have to be a generalist. I'm responsible for the user experience design, the visual desgin, and writing the markup and styles for all of our sites.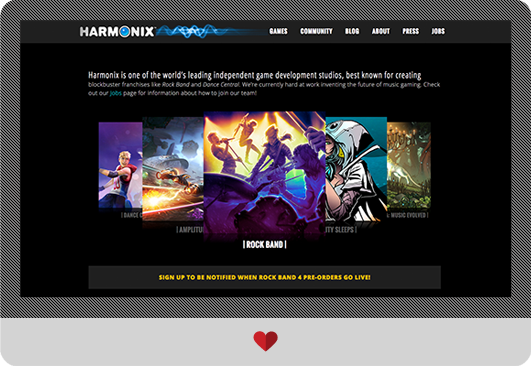 Harmonix Music
The Harmonix site was built in order to bring all of the marketing information for Harmonix games under the umbrella of the Harmonix brand. The site was built by a two person team. I was responsible for the UX, the visual design, and the styles and markup.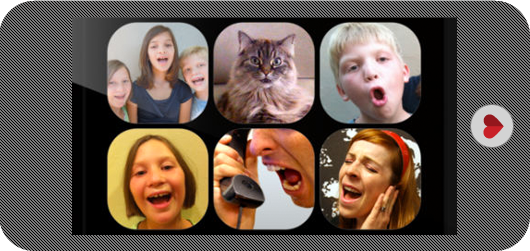 VidRhythm
I was responsible for the UI and shell/visual design for VidRhythm. I worked with another designer on the iTunes icon and the logo design. VidRhythm was runner up (right behind Instagram) for iTunes Rewind app of the year in 2011. The app has been downloaded by more than 2 million people.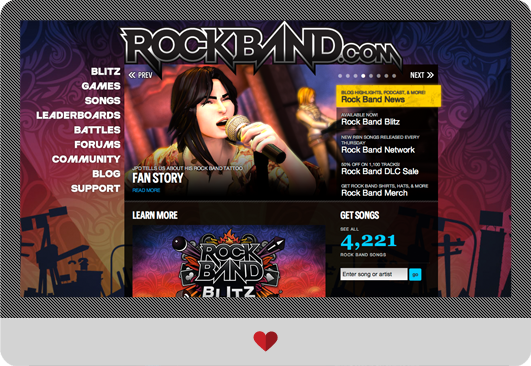 Rock Band
I worked on building out the front end (HTML and CSS) of most of the features of the Rock Band website which was eventually rolled into the Harmonix website. I worked on the visual design of various components of the site but was not responsible for the overall look and feel.
Dance Central
I worked on the redesign of the Dance Central website for the Dance Central 3 game. I was responsible for visual, UX and front end updates to the existing site. The Dance Central site was rolled into the Harmonix site in an effort to consolidate our web presences and reinforce our umbrella brand.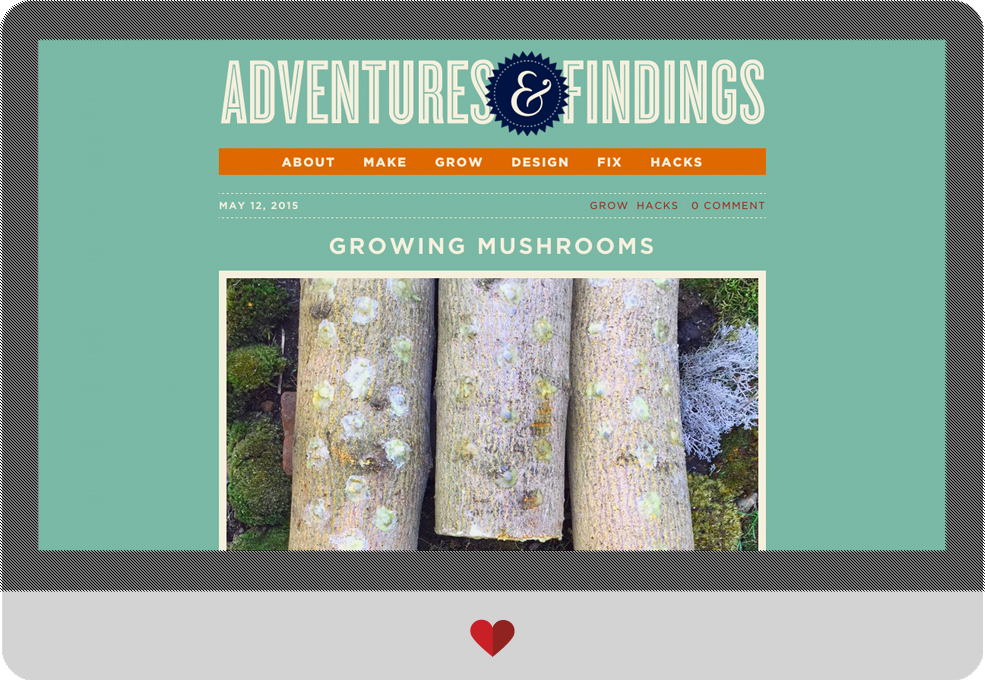 Adventures & Findings
I've recently redesigned my blog Adventures & Findings. I started with a Wordpress template and added custom styles. It's mostly a chronicle of work I'm doing on my house and (non-digital) design ideas. In the past I've found blogging quite a chore for someone with a busy life. I'm hoping to have the time and energy to keep it up.
Other Projects
In addition to the sites above, at Harmonix I worked on the Rock Band Network, The Rock Band World Facebook App, The VidRhythm website and countless other small projects. Before Harmonix I worked at a company called ZoomInfo as a Web Graphic Designer doing more corporate-style web design and user experience design. I've worked on variety of freelance projects for small businesses, most of which are no longer online for various reasons. I don't often take on freelance work when I'm working full-time, but I'm always interested in collaborating with other designers and developers on small projects so please get in touch.